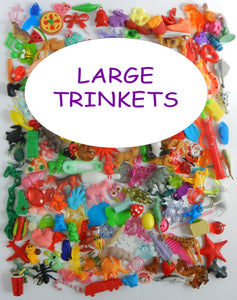 LARGE TRINKETS - SET D
Regular price
$21.99
$0.00
SET D
50 LARGE TRINKETS

PLEASE NOTE:
These are teaching toys.
I consider these too large for an I Spy Bag or Bottle,
but perfect for sensory bins or buckets,
and for parents and teachers who want larger manipulative toys.
See below for a listing of what is in this set.



QUANTITY
Trinkets are sold in sets of 50 with 
NO DUPLICATES in a set OR between sets.
SHIPPING
Shipping is already costly, and I do make an effort to refund your excess shipping paid.
CONTENT
Sets include small toys, novelty buttons, miniatures, cabochons, and pendants.
I DO NOT add ordinary round sewing buttons or beads as fillers. 
~ 
FUN, COLORFUL, AND EASILY RECOGNIZABLE!
TOP QUALITY TRINKETS
made of acrylic, plastic, resin, PVC, wood, or metal. 


 

~
Trinkets are 1-1/4" up to 4".
Contains small parts!

Not for children under the age of 3.
INCLUDED IN SET D
ambulance, antelope, bicycle, bow, candy cane, clown, cockroach, cow, crown, dingo, dress, duck, emoji, emu, flip-flop, gift, gingerbread man, gnu, golf ball, Hello Kitty, hen, hippo, horse, icicle, jar, ladder, lamb, maraca, mirror, owl, pacifier, pancake, panther or cheetah, pig, pizza, pom-pom, safety pin, scorpion, screwdriver, soda bottle, spider web, sun, sword, tennis racket, thread, unicorn, wand, warthog, yarn, yo-yo
---
More from this collection